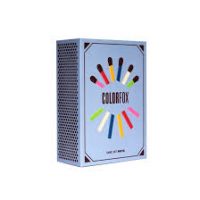 Color Fox
Be as sly as a fox and collect as many sets of matches as you can. Colorfox is a clever game of strategy, observation and luck.
Place your card next to one or more cards on the table by connecting matchsticks of the same color. Collect the corresponding colored sticks as a result. The more different colors you collect, the more points you score. See scoring below for examples. The player with the most points wins the game.
Add a Review for "Color Fox"