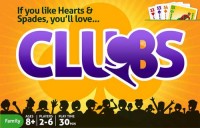 Clubs
Clubs combines trick-taking fun with a hint of risk. It's simple enough for kids, strategic enough for adults.
The deck of 60 unique cards opens a new world of play for card game lovers.
The goal is simple: get rid of all your cards as fast as possible. At the same time, you'll want to take tricks with clubs in them, because they are the only cards that score points. But watch out! The last player to get rid of their cards scores nothing, even if they have a huge pile of clubs.
Add a Review for "Clubs"