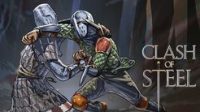 Clash of Steel
Clash of Steel: A Tactical Card Game of Medieval Duels
You stand across the bloodied mud of the battlefield. Your mortal enemy is just out of range, seething with lethal intent. Only one of you will walk away; only one will be victorious. Choose your weapons, test your mettle, and cross steel with your foe in a duel to the death.
Clash of Steel is a tactical two-player card game of medieval duels. Every element of play is designed to explore the nuanced and complex decision-making of crossing blades, from choosing your stance to selecting your target.
Gameplay focuses on managing your limited stamina, predicting your opponent's actions, and whittling their defenses down until you can land a final, crushing blow.
The game takes about five minutes to learn and 10-15 minutes to play. There are no random elements -- the only unknown is which cards your opponent's playing and how much they're willing to spend to gain the upper hand.
Add a Review for "Clash of Steel"