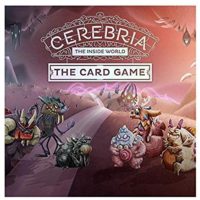 Cerebria – The Card Game
Cerebria – The Card Game is a fast-playing set collection game for 2-5 players, spiced up with various card effects for lots of player interaction. Several mechanisms can be familiar from the main game in a simpler form – for example, the collected Emotion sets are scored during Revelations, occurring when a player empties one of the central card pools. Revelations reward Bliss or Gloom Fragments based on what Emotions were in the scored set, and players can win either by developing either a fully balanced, or a completely single-minded Identity.
For more details on the gameplay, check out our video below, including a learn-to-play part and a playthrough session. This is our first video of this kind, so go easy on us :) You can also download the game's rulebook from the link below. The game will come in a magnetically sealed box, and include a Bliss/Gloom metal coin as well.
Add a Review for "Cerebria – The Card Game"