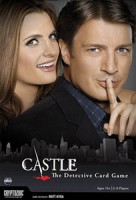 Castle: The Detective Card Game
There has been a murder, and the stars of ABC's Castle are on the case!/p>
In Castle: The Detective Card Game, an easy-to-play murder mystery card game, 2–5 players will play as one of six major characters from the show – each with a unique ability to use during play – as they collect and use investigation cards to narrow down the suspects until they find the guilty party! Special event cards change the dynamics of the investigation as a new suspect could enter the fray, or you could get a new set of investigation cards to aid you.
Castle: The Detective Card Game includes two ways to play. You can play a single game, which simulates a single episode from the show, or you can play a whole season. If you play a single episode, whoever finds the killer wins the game. If you play a season match, you play multiple games until one of the players has won two games.
Add a Review for "Castle: The Detective Card Game"