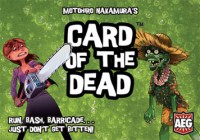 Card of the Dead
Run, Bash, Barricade… Just don't get bitten!
Zombies have come to your town! Good thing you've seen the movies. Put on your football pads, grab your trusty slugger and give those walkers a good thrashing! Or run away, that works pretty well too.
In Card of the Dead your job is to survive by whatever means you can. And remember, you don't have to be the fastest, just faster than the person next to you.
Add a Review for "Card of the Dead"