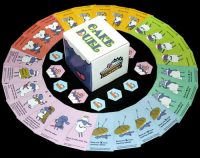 Cake Duel
Cake Duel is a fast-paced strategy card game for 2 players. As the commanders of cute (but starving) Sheepie battalions, players take turns bluffing Sheepie cards decked out in RPG gear in order to honorably relieve the other side of all its cakes. Cake Duel is designed to be a short, action-packed experience that can be enjoyed over and over again.
Card-counting, mindgames, and big plays. Cake Duel delivers all of these in a light-hearted setting.
Easy To Learn. It only takes 5 minutes to learn the basic rules! You can watch the how-to-play video below and play along with our demo version, which requires only 2 people, a deck of playing cards, and some coins.
Thoroughly Replayable. A big part of Cake Duel is crafting strategies to adapt to your opponents, which keeps the metagame flavorful after many, many playthroughs. Ever wanted to engage in an arms race of wits with your friends? Cake Duel is your arena.
Fully Customizable. Each duel is played with a custom deck, and you can decide to put your favorite Sheepie into it. All Sheepie have unique abilities, and different army compositions result in wildly different games. Can you say fortune-telling assassin? Games are as explosive and as tame as you want them to be.
Pocket-sized and Portable. Cake Duel doesn't require a lot of space to play. It's perfect for the concert line, the train, or any other place where you have to play the waiting game (why not play a cake-stealing game instead!). We provide a pouch that allows you to carry the entire game in your pocket.
Newbie-Friendly. We understand that strategy games might be an intimidating genre to jump into. While we we've spent a lot of time building the game's cognitive depth and ensuring a high skill ceiling, we've also worked hard to build a safe place where new players can explore. Even if you're behind, it never feels as if you're just playing out your demise; a simple challenge ends the round and you start with a clean slate.
Add a Review for "Cake Duel"