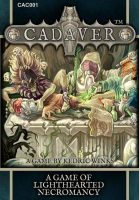 Cadaver
Cadaver is a set building card game where players compete to raise as many corpses as they can before dawn. The player with the best combination of corpses is declared the master necromancer and wins the game – its a perfect party card game!
Cadaver features stunning artwork by Augustinas Raginskis, and with winning game mechanics by Kedric Winks, players are rewarded with a compelling game experience!
Add a second pack to extend game to 2-6 players!
Add a Review for "Cadaver"