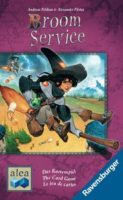 Broom Service: The Card Game
Wild witches soar on their brooms collecting colorful potions in this card version of the award winning board game Broom Service. Choose and play the right cards, at the precise moment, and zoom to victory!
Also included in the card game - The 1st Expansion for the board game, which includes 16 special cards that allow you to gain more resources, earn victory points and more!
Add a Review for "Broom Service: The Card Game"