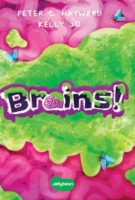 Brains!
Brains! is a card game for 2-5 zombies, suitable for players of all ages. A stand-alone sequel to the hit games Scuttle! and Ninjitsu!, this graveyard-building game will keep the whole family entertained for hours. In this fast-playing card game, players race to be the first to reach 21 or more points. Each turn either play a card, draw 2 cards, or bury the top card of the deck. Cards can either be played as treasure or as an action, while all buried cards move to the top of your graveyard. Cards in your graveyard can have ongoing effects, or trigger special abilities when they enter your graveyard.
Brains! is a quick and chaotic card game suitable for zombies as young as 8. The latest in the Treasure Hunters series (which includes the hit games Scuttle! and Ninjitsu!), any of the games in the series can be played separately or shuffled together for pirate-ninja-zombie mayhem! The game takes 5-10 minutes to play, and each game is totally different.
Add a Review for "Brains!"