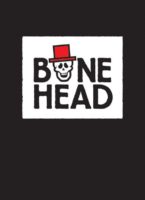 Bone Head
A spooky little card game for 2-9 players where Bone Heads in top hats compete to collect graveyard roses.
Players take turns to add their Bone Heads to a forming chain by linking hands and avoiding other Bone Heads with the same color top hat. If a player is unable to play a Bone Head they must collect another from the graveyard.
The first player to play all their Bone Heads successfully collects a rose from the graveyard or steals one from another Bone Head.
Domino+ mechanic with a spooky twist.
Add a Review for "Bone Head"