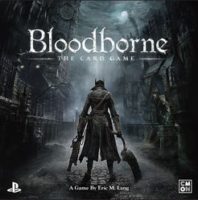 Bloodborne: The Card Game
Your fate awaits in the Chalice Dungeon. Will it be glory or death?
Bloodborne: The Card Game
designed by Eric M. Lang and based on Sony Entertainment and From Software's hit video game Bloodborne for the PlayStation 4. In it, several Hunters will enter the Chalice Dungeon, but only one will be able to escape the victor. Round after round you'll face off against brutal creatures bent on destroying you. It will require cunning decisions and careful timing to avoid death. Along the way you'll find powerful weapons and equipment that will aid in your quest. As you dispatch the monsters in battle, you'll earn rewards of Blood Echoes and Trophies. Bank your rewards and heal by resting in the Hunter's Dream or you could risk losing points and even death.
Bloodborne: The Card Game
is a challenging, tactical game. You'll need to be able to read your opponents and make split second decisions if you want to earn the most glory in combat. Only the brave will have a chance to escape!
Add a Review for "Bloodborne: The Card Game"