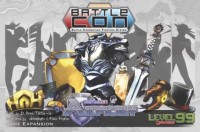 BattleCON: Armory

Armory is an expansion to BattleCON: War, Devastation, and Fate of Indines which allows you to create customized fighters using all sorts of enchanted gear, potions, and trinkets. It's perfect for players who want to test their skills at creating fighters on the fly.
Features:
Build the ultimate fighter from the ground up!
Beta, Delta, and Weapon Bases provide new strategies to use!
Nearly 40 kinds of trinkets, tools, and potions to equip!
Utilize powerful Special Bases that pay homage to famous fighting game personalities!
NOTE: This expansion was originally released as a stretch goal to pledgers of the BattleCON: War of Indines Remastered Kickstarter, and some of its contents were previously packaged in BattleCON: Devastation of Indines Extended Edition. It has been repackaged and made available for purchase through retail outlets. This is an expansion, not a standalone game. It requires BattleCON: War of Indines, BattleCON: Devastation of Indines, or BattleCON: Fate of Indines to play.
Add a Review for "BattleCON: Armory"