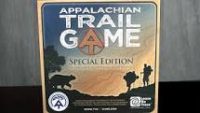 Appalachian Trail Game
Test your knowledge about hiking, backpacking, wildlife, and The Appalachian Trail as you complete a thru hike on America's most treasured footpath!
Make your way along the A.T. as you successfully answer questions, identify trail wildlife, and add points to your trail journal. Use the gear in your pack to help navigate through perilous situations that arise, like poison ivy, an unseasonal snowstorm, or getting lost! Go ultralight, help a hiking club, experience Trail Karma, or head to the nearest A.T. Community for a hot shower and soft bed. Learning about the outdoors has never been so much fun!
The Special Edition game is the kitchen table version of the Appalachian Trail Game! Compatible with the Backpacking Edition, this game includes a table top game board and a set of 4 game pieces, and 200 cards, including 150 Challenge cards, 50 Chance cards, 35 Leave No Trace cards, 8 Zero Day cards, 5 Trail Karma cards, 20 gear cards and 1 Thru hike card.
Thanks to our key partners, The Appalachian Trail Conservancy, Leave No Trace Center for Outdoor Ethics, and the American Hiking Society, the Special Edition also includes information that directly connect players to national and trail stewardship organizations and offers ways to get involved in trail protection and management efforts.
5% of all Special Edition sales is donated to the Appalachian Trail Conservancy to support their work.
Add a Review for "Appalachian Trail Game"