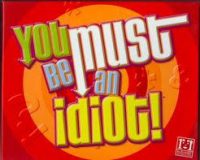 You Must Be an Idiot
The ingeniously idiotic trivia game where some players are Geniuses, and some are Idiots. But you don't know who's who. The Genius asks a question and players write their answer. BUT, if you're an Idiot, you must answer incorrectly. And ... you can always pretend to be an Idiot! Answers are revealed, and you must determine who really is an Idiot. Be careful! Call someone an idiot who's really not, and they'll steal your points!
Add a Review for "You Must Be an Idiot"