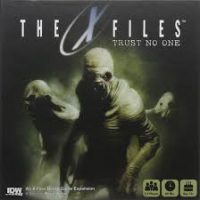 X-Files: Trust No One
Here there be monsters!
The first expansion to the X-Files board game adds new agents, an additional location to investigate, and a new "Monster of the Week" mechanic that brings terror in the form of some of the show's most iconic serial villains.
Scully and Mulder return, but now Agent players will also be able to assume the role of one everyone's favorite trio; the Lone Gunmen!
Meanwhile the Syndicate player will now be able to unleash some of the hit show's creepiest villains including Tooms, Flukeman, the Peacocks and more. These intimidating foes are ready to block the progress of any X-Files agent foolish enough to investigate in their midst.
Add a Review for "X-Files: Trust No One"