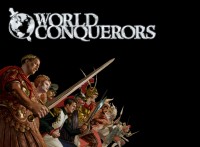 World Conquerors
Conquer the world with history's greatest warlords under your command!
The game plays in 4 turns where each player plays a ruler from history and conquers territories using a simple dice mechanic. The deck of World Conqueror cards generates effects and goals to modify and drive the action. If nobody has conquered the world by the end of the 4th turn to win immediately, the player whose empire got the largest at any given point wins.
Add a Review for "World Conquerors"