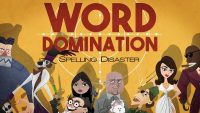 Word Domination
Word Domination is the the award-winning area control / word game that is perfect for word-buffs and strategic junkies alike. Play one of 8 criminal masterminds, plotting to steal the world's treasures before your opponents. But you'll need more than a big vocabulary to succeed. Word Domination is a game of skill, strategy, and diabolical fun.
Take the role of a 1970s-era villain, each with their own, unique character ability.
Hard-to-use letters provide unique, devious powers to the wielder
Completely interactive - unlike many word games, you'll be messing with your opponents on every turn
Competitive, cooperative, and single player gameplay options
Easy to learn, easy to teach - watch a how-to-play video or checkout the rulebook
Add a Review for "Word Domination"