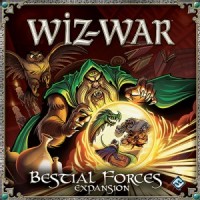 Wiz-War: Bestial Forces
With the Bestial Forces expansion, you unleash a horde of creatures into the labyrinth of Wiz-War. For the first time, you can harness the reckless stampede of the Minotaur or the magical trickery of a Genie as you duel your opponents. With six brand new creatures, each with its own sculpted plastic figure and life dial, this expansion brings new levels of wild magic to your wizard duels.
Creatures aren't all you'll find in this expansion, though. Three new schools of magic – Mythology, Draconic, and Totem – offer an array of new spells. Whether you tap the power of relics to get ahead of your opponents or use totems to affect entire sectors, your wizard battles are about to change forever with Bestial Forces.
Add a Review for "Wiz-War: Bestial Forces"