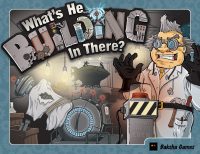 What's He Building In There?
Now that you've got some experience as an Evil Doctor, it's time to move onward and upward. What's the place to be in the Evil Doctoring World of the late 1800's? London, England. What's your plan? Find a cheap warehouse somewhere to build your Doomsday Machine. Scotland Yard is on your trail, however, so in addition to your Doomsday Machine, you'll have to build an Escape Plan. The good news is that you can find reliable henchmen in London, and you can now pay them enough to do your bidding without all the trouble you had with those "Good Help" bumpkins back home.
Add a Review for "What's He Building In There?"