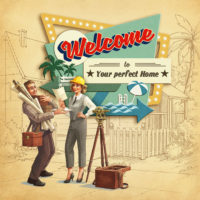 Welcome To…
Players compete to be named Best Suburb by giving the houses in their developments the best parks, pools, and curb appeal. The game supports 1 to 100 players out of the box and is perfect for any size playgroup, because everyone takes their turn at the same time!
Every round players select which house they want to build out of 3 available, writing their selected house onto their player sheet. They'll then have the option of taking a bonus action, based on the house they picked. In addition to competing for the title of Best Suburb, they'll also be racing to complete objectives set by the city. There's multiple ways to score big in this game, and no two plays are the same.
Add a Review for "Welcome To…"