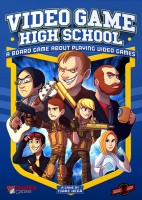 Video Game High School
Plaid Hat Games has teamed up with Rocket Jump to design, develop and publish a board game based on their popular Video Game High School series. Video Game High School (or VGHS) is an action/comedy web series about best friends, first loves, and landing that perfect head shot.
While fans of the series will love playing as their favorite characters and geeking out on deep cut refrences from the show, no prior knowledge of the show will be needed to dive into this quirky world where live presidential addresses are interupted to bring you the latest news in professional gaming.
Each player gets to be one of six characters from the series, represented by a character card with a unique rule for that character, plus standees and special power cards. Players roll their five skill dice and get a couple chances to re-roll to get the results they need. They then take turns choosing spots on the board for their characters' standees and resolving the effects, gaining skill tokens, getting high scores in games, and moving up the ranks of Video Game High School. The first player to achieve the #1 rank is the winner!
Video Game High School is easy to learn, quick to play, and loads of fun.
Add a Review for "Video Game High School"