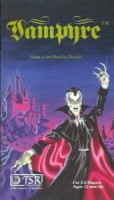 Vampyre: Game of the Hunt for Dracula
FROM JONATHAN HARKER'S JOURNAL - (Kept in shorthand)
"31 October. Klausenberg — Arrived this evening by train at 5:20p.m., just before sunset. We are all here now; Dr. Van Helsing, a wise man of some years with a stout build and a resolute will; Dr. John Seward, the lunatic asylum chap, terribly nervous fellow; Quincey Morris, the young roguish American; Lord Godalming, tall and austere with the resolve of a granite cliff; beautiful Mina, my love, and of course myself. We are a grim fellowship indeed.
"Only six short months ago, who would have suspected that today we would be travelling by carriage through the gray, snow-covered Carpathians in search of an inhuman monster — Count Dracula!"
Like the original quest to kill Dracula, this game is fraught with danger. But that is to be expected, since putting an end to Count Dracula is as challenging an endeavor as can be imagined. Dracula can be killed, both in the original book and in this game. It requires bravery and the willingness to take terrible risks. But hurry — "Denn die Todten reiten schnell" — ("for the dead travel fast").
The Vampyre game is faithful to Stoker's original novel. It may be played by up to 6 people, each playing the role of one of Stoker's characters. Many of the game elements are also derived from the book. In Stoker's novel, Dracula did indeed hide coffins in various secret locations so that he would always have a place to hide during the day, should his principle (sic?) lair be discovered. Dracula did have vampire brides and could command wolves, rats, bears and other supernatural beings. Effective against these un-dead creatures were The Host, holy water, crucifixes and silver bullets; not to mention the hammer and stake - tools required for dispatching vampires.
The Vampyre basic game takes place on the map of Transylvania. The game is a race between the vampire hunters to see who will be the first to find and destroy three of Count Dracula's hidden coffins.
The extended game is played on the reverse side of the map, Dracula's Castle, after the players have finished the basic game. Here, the players have already destroyed Dracula's hidden coffins. Now they must track down and destroy the Count himself in his heavily guarded lair.
Add a Review for "Vampyre: Game of the Hunt for Dracula"