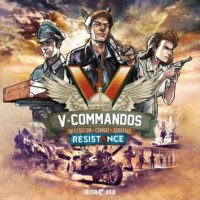 V-Commandos: Résistance
V-Commandos: Résistance
is an expansion to the base game which adds the following features.
13 new terrains (using 15 new tiles) and 5 operations involving up to 6 commandos (increases player count)
3 new characters with unique abilities: the SOE Agent, the Saboteur and the Spy.
18 new events to face
Request equipment airdrops and use your binoculars to improve your luck
Escort your allies while fighting against German officers and guard dogs. Beware of deadly gas.
Add a Review for "V-Commandos: Résistance"