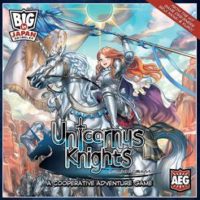 Unicornus Knights
The kingdom of Astoria was suddenly thrown into a war. The hostile empire began the campaign to take the fertile lands for their own. The military strength of the empire was vast, the royal army was obliterated, and the capital of Astoria fell.
Only one member of the royal family, Cornelia is left. She was just sixteen, a small child with no knowledge of politics or military tactics. But she did not hesitate a second to devote her life to her youthful ideal of vengeance. "I will fight to the bitter end for my people. It is true that this fight is nigh hopeless. Nonetheless, I call upon all of you who refuse to cast away your hope! Gather! Gather around our Unicorn Flag!"
Add a Review for "Unicornus Knights"