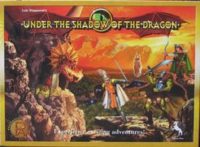 Under the Shadow of the Dragon
Experience exciting adventures in a fantastic world! This is an expansion of the original Return of the Heroes Game, which can be played either as a standalone 2-player game or combined with the original set for a 5-6 player game. This time, the heroes must find one of three magic weapons that will allow them to defeat an evil dragon. If combined with the base game, a hero can win by defeating either the dragon or the Nameless.
Add a Review for "Under the Shadow of the Dragon"