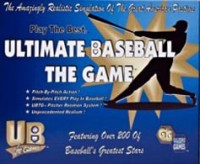 Ultimate Baseball The Game
Ultimate Baseball The Game is the revolutionary, amazingly realistic simulation of the great American pastime. While there is already an established tradition of table top baseball sims (Strat-o-Matic, APBA, etc.), UBTG is not just another "replay" clone. These "replay" games usually resolve entire at bats all at once with a die roll and afford gamers very little opportunity for strategic interaction and intrigue. Following are UBTG highlights that set it apart:
UBTG simulates pitch-by-pitch action.
UBTG affords gamers exciting strategic choices on nearly every play.
UBTG's pitcher rotation system is extremely accurate and exciting. One customer called it "unparalleled".
We have researched every player on record to ever have played in American major leagues, including Negro leagues and pre-1900 players. Currently, UBTG has player cards that can be found in no other simulation on the market.
UBTG's player cards are lifetime composites. You don't need different cards for different seasons. Your Ted Williams card is the only one you need, and it will play like Williams played in real life. And each card matches up accurately against other cards, regardless of era, team, season, or league. This is why UBTG has been called "the dream game of dream team simulation."

We include a quick, easy version as well as the advanced game in the game box, so UBTG has something for the novice as well as the experienced gamer. UBTG can teach baseball strategy, so you do not need to be an advanced strategist to enjoy UBTG. But the advanced game will challenge even the most hardcore veterans. If you are into strategy games or baseball...or both!...UBTG is the game for you!
Add a Review for "Ultimate Baseball The Game"