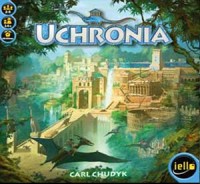 Uchronia
Welcome to Uchronia, city of wonders, where dinosaurs never died out, and the rising columns of the temples testify to the inhabitants' pride in their legacy. While explorers and merchants seek treasures from afar, the cries of workers and dinosaurs blend together as they toil under the critical eye of the architects. All of these individuals play a part in building Uchronia to greatness, in the heart of the jungle.
You are the patriarch of a great Uchronian noble house, competing with the other houses,who have also committed their wealth to glorifying the city, enriching it with new construction,and winning the hearts of the people. The most powerful patriarch will become the undisputed master of Uchronia.
Add a Review for "Uchronia"