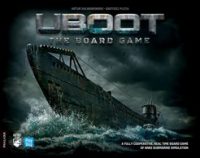 UBOOT The Board Game
UBOOT The Board Game is a real-time tabletop game of WW2 submarine warfare. An underwater cooperative war thriller that allows 1 to 4 players to assume the roles of the Captain, the First Officer, the Navigator, and the Chief Engineer on board of a type VIIC U-boat. The game is enhanced by a companion app, allowing for an unprecedented level of realism, as well as a challenging enemy A.I. which will push your skills to the limit. The action unfolds both on the strategic and the tactical scale, always demanding teamwork, efficient crew management, and quick situation assessment.
The Crew
Each of the four roles entails unique responsibilities, encouraging the players to develop an efficient communication scheme and use genuine navy terminology. The Captain oversees the completion of mission objectives, supervises action point costs, and is responsible for the crew's morale. The First Officer operates the companion app, manages the flow of information, and takes care of the crew's health. The Navigator steers the submarine by setting its course and depth, but also updates all the essential information on the strategic, and the tactical map. Last, but not least, is the Chief Engineer, who is responsible for the engines, repairs, as well as other mechanical implements on board of the U-boat (such as the ballast tanks, weapon systems, etc.). At the same time, each of the four officers commands his own group of crew members by issuing orders within a worker placement system.
Add a Review for "UBOOT The Board Game"