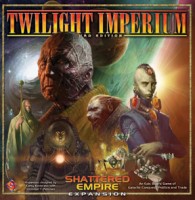 Twilight Imperium: Shattered Empire Expansion
At the end of empire, a faint wind rustled through Salai's robes. It was a calm, warm evening, and the bruised purple outline of the setting sun was still visible on the horizon. An evening made for calm contemplation and peace.
Verus came to his emperor's side for the last time. Together, the two stood in the trembling tower, silently witnessing a bloom of fires grow in their city like a garden of destruction.
The next wave of bombardments destroyed the imperial palace and everyone therein.
The Lazax empire has fallen - first into decay, and then, after a long twilight, into history. It is done and gone, but a new day is dawning, and your people have a new chance to mold the Twilight Imperium to the design of your race.
Twilight Imperium: Shattered Empire is an expansion for Twilight Imperium Third Edition. It enhances gameplay with a variety of new options and enables you to play with seven or eight players in an epic struggle for true galactic dominance!
Twilight Imperium: Shattered Empire includes:
Four never-before-seen races join the struggle for empire!
Two new colors of plastic units to allow for up to eight players in a single game.
Dozens of new system tiles, including new special systems such as Ion Storms, Hope's End, trade stations, and the Wormhole Nexus.
Brand new technologies for all eight players, including a new never-before-seen type of tech!
Eight new variant strategy cards for a completely different gameplay experience, and an additional variant Imperial strategy card for optional use with the core strategy set.
An even broader array of agendas and options in the form of new Action, Political, and Objective cards
Facilities, shock troops, artifacts, space mines, and more!
Add a Review for "Twilight Imperium: Shattered Empire Expansion"