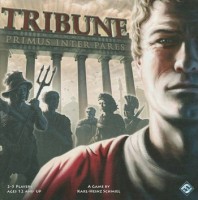 Tribune
Salute your Tribune, Roman citizens!
Poor and rich, strong and weak, Patrician and Plebeian, hear the words of the Tribune! He is one of you; he is primus inter pares – the first among equals! Welcome to the seat of the most powerful empire of the ancient world – Rome... a city full of trade, politics, and intrigue. Its denizens come from backgrounds as varied and divided as the empire itself. But beneath those divisions they proudly share a common heritage – they are Romans.
Play as one of the great patrician families that once held substantial power and influence. Gain dominance over the seven controlling factions of the city, and use their resources to unite all of Rome under a common banner... yours. In Tribune, you try to become the most powerful family in Rome. Will the Legions stay faithful? Will you be honored with the favor of the Gods? Will you be hailed Tribune? Prepare to write history!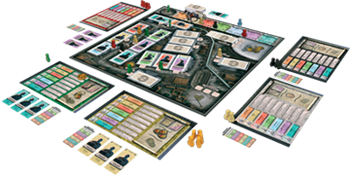 Tribune is a game of resource allocation, set collection, and bidding for 2-5 ambitious Romans, and is playable in 1-2 hours. To win, players must achieve multiple victory conditions depending on the number of opponents and the chosen difficulty of the scenario. These conditions may include the collection of denarii (money), the gathering of laurels (effectively representing influence), the backing of the Roman legions, or the favor of the gods, just to name a few... but the inclusion of these many paths to victory, along with scaleable difficulty and included variants, gives Tribune a nearly infinite replayability; You'll find that much like the varied and colorful Roman factions themselves, no two games of Tribune are alike.
Add a Review for "Tribune"