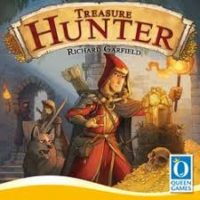 Treasure Hunter
The players are treasure hunters on a quest for legendary treasures. Their journey leads them to three locations: up to the icy peaks of the Frosty Mountain, into the thicket of the Tangled Jungle, and down to the depths of the Lava Cave.
At the beginning of each of the 5 game rounds, the players assemble their hand of 9 cards, comprising adventurer, watchdog, coin and action cards. Thus well equipped, the treasure hunt is ready to start. At each of the three locations, two treasures are waiting to be captured. The player with the strongest group of adventurers gains one of these treasures, and the player with the least strong group of adventurers fetches the other one. (They travel fast!) All others return home empty-handed. With the help of their action cards, the players may improve their group, even before the treasures are captured. Precious artifacts are among these treasures, and powerful magic scrolls – which can be worth many coins – as well as items nobody really wants to collect! After the treasures have been captured, they must be defended against sneaking goblins with the help of watchdogs. Anybody not owning sufficient watchdogs must part with some of their coins. After 5 game rounds, the players total their treasures and coins to determine the most successful treasure hunter!
Add a Review for "Treasure Hunter"