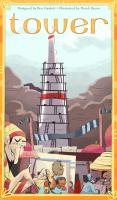 Tower
Worried that the legacy of his people could be destined for obscurity, King Ahem decided to host a magnificent competition in his dry and dusty kingdom of Meeplestand. Issued to neighboring regions, he called for only the most skilled architects to aid in the construction of a grand tower--one so tall that it would touch the heavens!
In Tower, players take the role of talented architects who must collect, purchase, and build their way to victory--but watch out for the unsavory thugs of the black market, who would happily help you along just as quickly as they would stab you in the back on behalf of your competitors... it all depends on who's footing the bill. The first player to build all three of his/her tower segments is the winner!
Add a Review for "Tower"