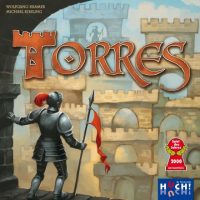 Torres
Rebuild a City, Rebuild an Empire.
Disaster has come to the land as the king's reign nears its end. The kingdom has fallen into disrepair. To ensure continued peace, the king must choose a successor. With a single hopeful decree, the king announces that his successors have 3 years to rebuild the once majestic kingdom. The successor who builds the most impressive castle may yet have a chance to repair the prestige of the shattered kingdom.
Using precious Action Point resources, strategically move your loyal Knights to stand atop the tallest towers. Not only must you build as high to the sky as you can, but you must also build across as much broken ground as possible to maximize the glory of your castle.
As your towers rise, so too will the peoples' hope in a new era of prosperity. May you be the successor to the king.
In 2000, Torres was awarded the Game of the Year prize from the prestigious Spiel des Jahres: the highest honor a board game can receive.
Add a Review for "Torres"