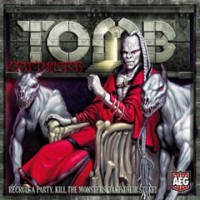 Tomb: Cryptmaster

Return to the Tomb! Tomb: Cryptmaster is a new game in the Tomb line, fully playable on its own and completely compatible with the original game! Tomb: Cryptmaster brings a stronger focus on the role of the Cryptmaster, with more characters, monsters, and treasures that give you options while the CM, and an all new deck of cards purely for wreaking havoc on other parties!
Tomb: Cryptmaster also introduces two other new card types: Curses, which give the CM a whole new way to torture a raiding party far beyond the time of the raid, and Overlords, terrifying beings whose very presence can cause parties to flee in terror!
Add a Review for "Tomb: Cryptmaster"