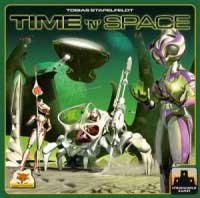 Time 'N' Space
Here, where space is endless and time is precious, you face the challenges of a true space commander. From the bustling hub that is your control center, you coordinate your planet's production, transport, and demand, and travel to other planets to fulfill orders.
Time 'N' Space is a real-time, action-selection, production management, pickup-and-deliver game for 3-4 players that plays in exactly 30 minutes. In that time, you must produce goods and manage as many deliveries as possible to fulfill the demands on planets, while the other players are trying to do the same thing.
Add a Review for "Time 'N' Space"