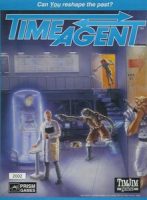 Time Agent
Time Agent is a science fiction-themed board game in which players must alter history to allow their race to survive. Each player controls a different alien race which is going back through time and re-writing history to ensure that their race comes out on top. Or rather, that their race was always on top.
The game ends when one race destroys the secret of time travel, thus locking the "current" version of history down forevermore...
Will it be your race which controls the destiny of the universe? Or will you be erased for all time?
Add a Review for "Time Agent"