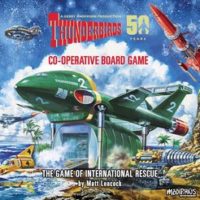 Thunderbirds
The Thunderbirds game includes cool 6 plastic models of the Thunderbirds machines plus the evil Hood, 6 Character pegs, two special custom Rescue dice, cardboard tokens for the Pod Vehicles for Thunderbird 2 and Bonus Chips for use during the game. In addition to the high quality linen finish board, there are 208 high quality linen finish cards representing the Disasters, the Hood's evil schemes, random events and FAB cards which give bonuses to the player's.
How To Play
In Thunderbirds, you and your friends take on the role of International Rescue – a secret organization formed to render aid when all other means have failed. Meanwhile, your arch nemesis, The Hood, is threatening to trigger terrible disasters around the world in an effort to learn your secrets. If you can foil his scheme while completing your missions, then you and your fellow players win the game!
Each person plays different character in the game, for example, you might be Scott Tracy or Lady Penelope. All the different characters can operate any of the different vehicles. You might load up the Mole, fly Thunderbird 2 to Tracy Island, then hop into Thunderbird 3 with Alan and dock with Thunderbird 5 in Geo-stationary orbit. You'll use all of the vehicles to complete different missions around the world and in outer space. And you'll be continually weighing the threat of any of these individual missions against the overall danger of The Hood's scheme.
Add a Review for "Thunderbirds"