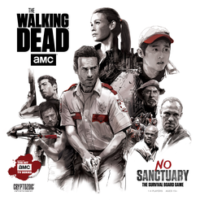 The Walking Dead: No Sanctuary
The Walking Dead: No Sanctuary Base Game
The Walking Dead: No Sanctuary is a cooperative board game in which 1-4 players take on the roles of iconic Survivors, working together despite dire conditions and personal rivalries as they navigate a variety of Scenarios based on the hit AMC television series. Players must contend with Walkers, outsmart Rivals, and maintain the cohesion of the group, since the group's tenuous psychological stability is just a important as staying alive.
Step into the shoes of your favorite characters - Rick, Glenn, Andrea, Shane, Merle, Dale, T-Dog, and Daryl - and try to survive in the world of The Walking Dead!
Add a Review for "The Walking Dead: No Sanctuary"