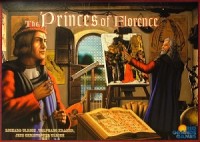 The Princes of Florence
Experience the golden age of the Renaissance! Assume the role of the head of an Italian Aristocratic dynasty and lead your family like the Medici or Borgia. Build magnificent buildings, cultivate beautiful parks, and invite famous artists and scholars to live and work in your court. The players support the builders, artists, and scholars so that their completed works bring them fame and prestige. As the patrons of such great works, players multiply their reputations, but only one will become the most prestigious prince of Florence!
Over seven rounds, players build Buildings, cultivate Landscapes, and invite artists and scholars to their Palazzi where they provide them with the facilities which inspire such people to produce great Works. All this is done by the players in their Principalities to earn Prestige Points, which are recorded on the fame track.
The more impressive a Work -- that is, the higher its Work Value, the more money and Prestige the player in whose Principality the Work is created is able to earn. Money is important to acquire more Buildings and Landscapes. Also, the Builders and Jesters, which provide valuable services, expect to be paid. Players will also find that Prestige and Bonus cards have great value in building their reputations and fame.
The player who has earned the most Prestige by the end of the seventh round is the winner!
Add a Review for "The Princes of Florence"