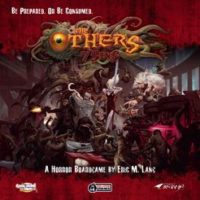 The Others
The Others: 7 Sins is a horror board game designed by Eric M. Lang that pits the forces of good against evil in a battle for the fate of the planet. One player will take on the role of one of the Sins and the rest will team up in an effort to disrupt their plans. As the Sin, you'll work to spread death and corruption around the city of Haven. As a team member of F.A.I.T.H., you'll work to stem the evil from multiplying and ward off the coming apocalypse. Each Sin you face off against will present its own set of challenges for the humans. You'll have to come together and work as a team if you want to save mankind.
Incredible Miniatures
Amazing and terrible visions come to life in the form of highly detailed, intricate miniatures from Studio McVey. The physical embodiment of the Sins will haunt you, and the F.A.I.T.H. members will make you feel like true heroes.
Horrifying Storytelling
Each Sin you face off against will tell a terrifying tale. As the game advances, the story unfolds in front of you like a book you can't put down.
Battle Over a Vast City
The city of Haven is the battleground for this war against good and evil. Explore and exploit the buildings and locations to your team's advantage.
Add a Review for "The Others"