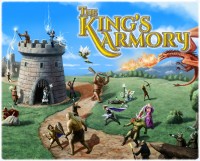 The King's Armory
Tower defense that you can share with your friends. This board game adaptation combines all the best elements of tower defense video games with the joy of a customizable social board game.
Play solo or with up to 7(+) friends in this unique cooperative game that allows players to drop in and out mid-game.
Tack on the immersive strategy, unique features, and a touch of a RPG feel and you've got a game with endless re-playability that will bring fun, thought, and just the right amount of challenge to any game night ...again and again.
Add a Review for "The King's Armory"