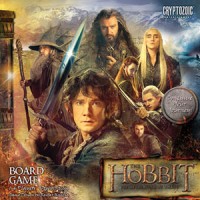 The Hobbit: The Desolation of Smaug
The epic adventure continues! From master game designer Reiner Knizia comes
The Hobbit: The Desolation of Smaug Board Game
, an exciting game of adventure in which you join Bilbo Baggins™ and his 13 Dwarven companions on their journey through the Mirkwood Forest and Lake-town, to the gold-filled caverns of Lonely Mountain. Along the way The Company will encounter spiders, elves, orcs, and finally the dragon Smaug himself.
Traverse your way through two boards, each more difficult than the last, with the goal of coming out alive and prepared for the dangers that lie ahead. Your accumulated points at the end of the game will be your group's mark for finding out how good of a team you really are! This is a standalone game, but it's also an expansion to The Hobbit™: An Unexpected Journey. New elements not found in the first game include "The Dragon's Path" and the "Dwarven Barrel Escape." Each will add new twists and tension to the game. Combine the two games for a wild ride and see how well your team can do!

Features
Co-operative game for 1-4 players that takes them through an adventure across two game boards!
Newly designed by critically acclaimed game designer Reiner Knizia, 4-time winner of the Deutscher Spiele Preis award and the Spiel des Jahres award for board games.
Use your limited resources as you trek through Middle-earthTM, gathering magic items and allies as you defeat the treacherous creatures and obstacles that stand in your way!
Overcome calamities that will stall your efforts to complete your journey and claim victory!
Work with your dwarven companions, who assist you in your travels as you encounter challenges that will need either a sharpened sword or quick diplomacy to overcome!
This is a standalone game, but it also continues the quest started in the original release The Hobbit: An Unexpected Journey. Combine the two games to undertake an epic adventure!
Add a Review for "The Hobbit: The Desolation of Smaug"