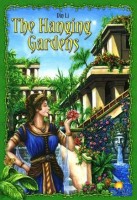 The Hanging Gardens
The hanging gardens were one of the 7 wonders of the ancient world, as all history courses teach. But, did they actually exist? Nothing remains of their reported splendor, which was built for the eyes of Amyitis.
Without an exact reference to follow, the 2-4 players will re-establish the hanging gardens according to their own tastes.
Card follows card with magnificent buildings, sparkling fountains, and exotic plants as the players work to rebuild the legendary gardens.
In the end, the queen will be pleased and rewards the victory palm to the player whose work on the gardens most impresses her highness.
Add a Review for "The Hanging Gardens"