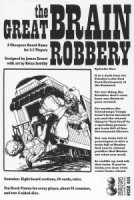 The Great Brain Robbery
Episode One:
It is a dark time for Friedey's, the Fast Food Restaurant of the Damned.
For one thing, the Zombies don't even have one Brain to pass around.
For another, the Cowabunga Conga hasn't been invented yet, and the closest thing to "fast food" is a speeding passenger train full of free Government Cheese.
But any train full of passengers is also a train full of Brains. And you're almost positive that Brains are what you need.
So saddle up and rob that train. If you're lucky, you may even come home smart.
The Great Brain Robbery is a board game starring the Zombies from Friedey's Restaurant, featured in the popular Cheapass card games Give Me the Brain and Lord of the Fries.
You and your friends are robbing a train full of Brains in the Old West, fighting to take home the best one. Whoever finishes the game with the smartest Brain wins.
While you're running around, the train is quickly falling apart. If you spend too much time picking up Brains, you may fall off the back of the Train and drop everything. What's more, once you've got a decent Brain in your head, you'll need to fend off the attacks of your fellow Brain Robbers as they try to steal it from you.
You'll need good luck and good strategy to win. But that should come easy to the smartest Brain in the West.
NOTE: As with other classic Cheapass Games releases, it is assumed you have access to certain generic game components that you can re-use for this game. For The Great Brain Robbery, you will need one Pawn for each player, about 50 generic Counters, and two six-sided Dice to play.
NOTE #2: This game is no longer in print, and there are no plans to release an updated version. It is available for free as a print-and-play game from the original publisher at the URL provided.
Add a Review for "The Great Brain Robbery"