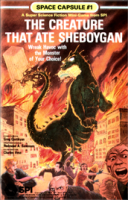 The Creature That Ate Sheboygan
Rising from the murky depths, the reptilian behemoth takes to the highway, shambling ever nearer with havoc in its cruel heart to metropolitan Sheboygan...
The Creature That Ate Sheboygan allows players to select the monster of their choice to do battle with police and national guard amid the panic and confusion of a middle American city under horrific siege. Complete with 11' x 17' map and fewer than 100 cardboard playing pieces, the game uses simple probability cahrts to detrmine the outcome of combat. Creature can easily be played in an evening by even a novice to simulation gaming; but the challenge and excitement will enthrall the veteran gamer as well.
Add a Review for "The Creature That Ate Sheboygan"