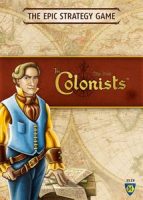 The Colonists
The Emperor has tasked you with founding a glorious new colony in his name! Send your steward out into the countryside, build residences and attract colonists to this new settlement! Attracting colonists is not enough though, you must also find jobs for them and educate them, allowing simple farmers to progress to citizens and finally to wealthy merchants. Build embassies to establish relations with distant lands and grow your colony into one that will earn the Emperor's favor!
Recruiting colonists is not enough; you have to create jobs for them as well. Therefore, you should also build buildings, where the colonists of your community can work. This will require a lot of resources; so let your steward or your colonists collect them.
With time, duties will become more complex, which is why you should educate your colonists so they are ready for the tasks at hand. Farmers will turn into citizens which in turn can become successful merchants.
Establish relations with distant colonies by building embassies in your community; and your community will be thriving in no time …
AWARDS & HONORS
2017 UK Games Expo Best Strategic Game Winner
2017 International Gamers Award - General Strategy: Multi-player Nominee
2016 The Golden Elephant Award Finalist

Add a Review for "The Colonists"