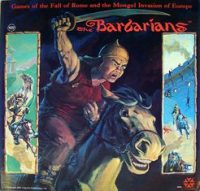 The Barbarians
Look with care to your weapons. They draw near! Your homes and families and the future of civilization depends upon your fight this day. They come to loot and conquer, destroying all they touch. They are...
The Barbarians
Games of the Fall of Rome and the Mongol Invasions of Europe
This game includes two games.
In "Sack Rome" two or three players takes turns seeing how long it takes to capture Rome.
In "Mongol" two play and the Mongol attempts to occupy the civilized world in a set time.
Add a Review for "The Barbarians"