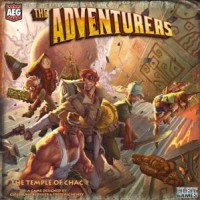 The Adventurers: The Temple of Chac

At the heart of the Guatemalan jungle, famous adventurers are about to explore the ancient Mayan temple of the rain god Chac. According to legend, the temple is full of priceless archaeological treasures and countless deadly traps! Will the Adventurers survive these nefarious traps together, or will they betray each other to claim the artifacts as their own?
The Adventurers is an exciting game for the whole family - one unlike any game you've played before! Throughout the adventure, walls close in on your Adventurers,a fast-moving river rushes towards a deadly waterfall, and a massive boulder threatens to shut in the Temple forever! The Adventurer lucky enough to escape with the most artifacts wins!
Add a Review for "The Adventurers: The Temple of Chac"