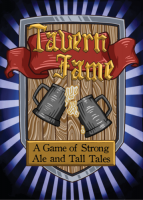 Tavern Fame
In Tavern Fame, players take control of a fantasy character, sitting around the local tavern, boasting about how many enemies they have killed on their adventures.
Each turn, a player can either:
• Increase the boast with a higher boast of your own
• Believe the current boast.
Don't boast too high though, because at any time, another player can call your bluff, forcing you to prove your story by rolling the dice and risking one of your patrons.
If you succeed though, you get one of their patrons, as well as the bonuses on the enemy card.
If there's ever a dispute during the game, or you are about to lose your last patron, you have to arm wrestle.
The first player to 10 patrons, wins.
Add a Review for "Tavern Fame"